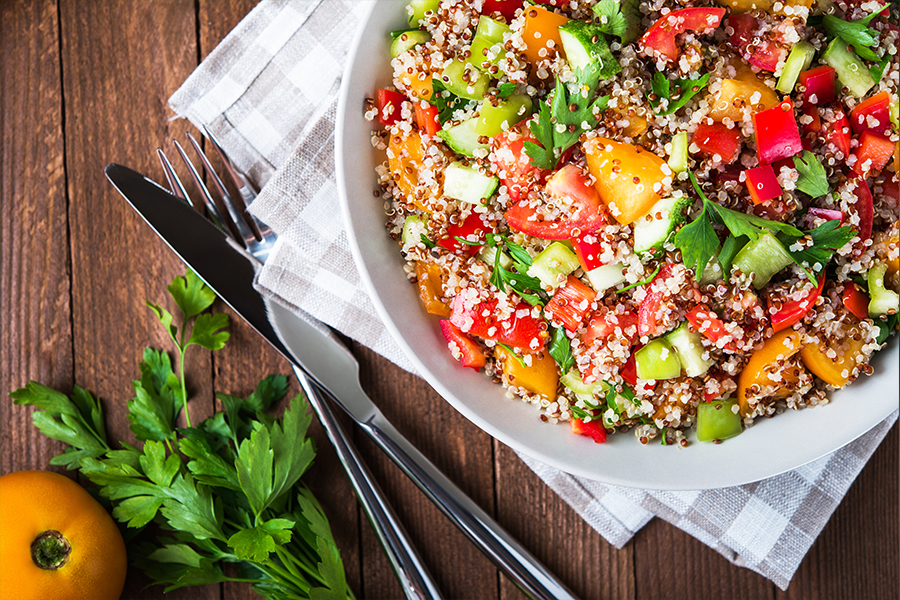 How to Maintain a Vegan Lifestyle – Tips from a Traveling Vegan
For whatever reason—you love animals, you see the health benefits, your doctor ordered it, or you
simply want to try it—you're now a vegan. Nowadays, being vegan is not uncommon, and the
infrastructure for veganism is abundant. While at home, you know where to shop, you've got your favorite
recipes and your go-to restaurants. But what do you do when you travel, and your local routine goes out
the window? Sean Dollinger, CEO of Dollinger Enterprises and serial entrepreneur, shares his tips on
how he maintains a vegan lifestyle while traveling. In addition to being vegan, Sean follows a gluten-free
and refined sugar-free diet, but he has found ways to navigate these dietary choices while on the road.
Do Your Research
Some cities have better vegan infrastructure than others. Even in cities where local culture indulges in
meat or other animal products, plant-based options generally exist everywhere. Before traveling, research
the area to which you are going to find restaurants that fit your diet. Websites such as PlantX.com or apps
like Happy Cow can help you to find local plant-based menus. You can also post questions on social
media or on travel blogs to get your culinary needs met. An insider tip from Dollinger: use hashtags such
as #vegan, #plantbased, or #veganmadrid to quickly zoom-in on local options and customer reviews.
Sean also believes that if research proves something to be healthy, he will modify his diet accordingly.
For example, despite being on a mostly gluten-free diet, Sean eats sourdough bread because of its health
benefits. It is important to be open to learning, rather than having just one way of life.
Airports and Snacks
Airports typically have vegan options, though most do not have any of the healthy or particularly tasty
variety. The first recommendation is to prepare a smoothie in advance that loads you up with all the
nutrients you need to keep you fresh for the day. Second, pack a meal to get you through the flight if you
don't want to eat from the in-flight menu. Airlines generally do not provide vegan milk, so if you need
plant-based coffee creamer, pack it in TSA-allowed quantities. Too, if you think you will need condiments
on the trip, now would be the time to pack them.
While you're preparing your meal for the flight, think about packing snacks for the trip. Vegetables that
last a while unrefrigerated include celery, carrots, and sugar snap peas. Pair these with a dip such as
hummus or peanut butter. Raw nuts, trail mix without milk-chocolate, dried fruit, and granola are all items
that will not perish on your trip. And of course, vegan protein bars are always a safe bet.
If you consume protein powder, pack it with you: it may be challenging to find your favorite brand—if any
plant-based protein powder at all—at your travel destination.
Ordering at Restaurants
Not all restaurants are entirely vegan, but you can find vegan options at most restaurants. Surprisingly,
steakhouses tend to have incredible vegan options. You can start with a salad, and then order sides like a
baked potato or vegetables that are often on a steakhouse menu. Look up menus online before traveling
to the restaurant to see if they have any vegan options. If they do not, see if you can piece together
ingredients that they have in other options, be kind to your server, and your server will be happy to
accommodate you. This tip goes for airports as well. Keep an eye out for baked, grilled, and steamed
items, which usually means that the thing is not fried (and you will not need to question if it was cooked in
animal fat).
If you are in a country where you do not speak the local language, do not worry. Dollinger recommends
you learn the following key phrases in the local language to avoid animal products at restaurants and
grocery stores:
Dairy
Eggs
Fat
Meat
Vegan/ "I am vegan."
Vegetarian
Find a Kitchen
Booking your stay at a place with a kitchen or a kitchenette will ensure that you can have control over the
ingredients that you eat. Dollinger likes to peruse local farmer's markets for fresh vegan ingredients, as
well as check out grocery stores for the remaining items. If you are unable to book a place with a kitchen
and the restaurant options are not appealing, food delivery apps like DoorDash and Postmates have
vegan options.
Also, if you visit a health food store with vegan options, stock up—you never know when you will come
across another one (unless you have done your research).
Don't Stress
Let's face it: the purpose of veganism is not self-punishment. If you accidentally eat something cooked in
animal fat, or your noodles had eggs as an ingredient, do not panic. Try to source only plant-based
ingredients on your next meal, and enjoy your travels! Sometimes, even if Sean knows something is
cooked with a small amount of butter or ghee, he will not turn it down if it means he will leave the meal
feeling satisfied and ready for a full day of work.
Post Comments